The last OFC 2015 conference was held in Los Angeles on 22-26 March 2015.  The Optical Fiber Communication Conference (OFC) is the largest global conference and exposition for optical communications and networking professionals.  From technical presentations to the latest market trends and predictions, OFC is a unique one-stop shop.

OFC 2015 started with the Optical Society of America's Executive Forum where Jeff Cox (Sr. Director | Network Architecture, Microsoft's Azure Global Network Services) shared his views on what Microsoft (and maybe other Internet companies and cloud providers) are looking at for Data Center Interconnect (DCI).  In short, these deep-pocket players responsible for the predominant part of data traffic worldwide want optical networking equipment with a different set of features and price point compared with what telecoms operators have required so far.  This post is mostly based on Jeff Cox's presentation.
Cloud Providers Context
Cloud providers are building very large scale data centers requiring high-capacity connectivity inside data centers (intra DC connectivity) and between them worldwide (inter DC connectivity).  For these connectivity needs, optical transmission equipment is required but they do not have to be the same one as deployed by telecom operators in their metro or backbone networks.  Actually, equipment/technology life cycles are shorter, and the use cases narrower and fewer in data center applications than in telecom networks.  Optical transmission products for DCI need less features at the system level, shall be optimized for cost and easily upgradable in order to enable large volumes and capacity growth in a cost-effective way.  Also, power and space constraints are strong drivers to higher integration.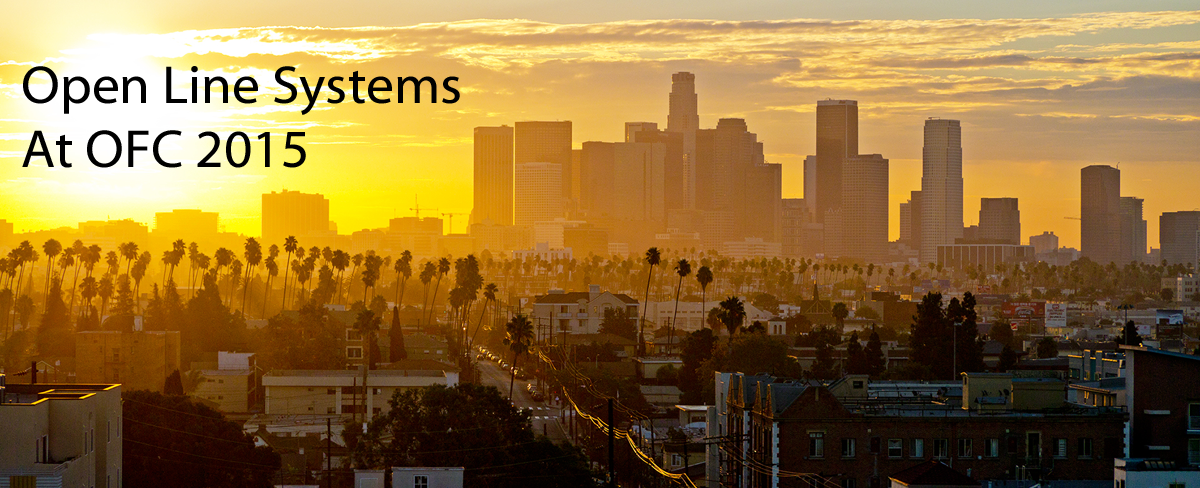 Rationale for Open Line System (OLS)
Starting from this, the full featured optical networking products that are traditionally offered to telecom operators are over-engineered from cloud providers' perspective who need simpler (metro and long-haul) optical transport system without all the unneeded features.  Simpler products are expected to result into reduced space requirement, power consumption and cost, all the three factors being crucial given the equipment volume purchased today and tomorrow by these new players.
The evolution from simplified optical transport systems to open line systems is driven by the will to dis-aggregate the common and the per wave equipment for taking advantage of the fastest technology evolution of the interface card technology.  This evolution to open line systems is enabled by the availability of coherent transceivers (which are becoming more standardized and less expensive for basic features) and Digital Signal Processors (DSPs) from several suppliers as separate components.
OLS Requirements
Microsoft started by sharing their "non-wish" list.  Given that cloud providers don't have legacy services to support and favor the packet-layer-centric design/operation, Microsoft Network Architecture Group has no need for:
Electrical OTU switching – use largest optical channels possible (100G being the basic size) between switches, repeatedly
Protection/restoration – done at packet layer
Packet aggregation – done at packet layer
Optical "bandwidth on demand" – what is equipped is lit and used
Demarcation between packet and optical layer
Support of non-coherent channels
So what is left?  The high-level wish list is actually getting quite simple:
Simple open line systems (optical amplifiers, gain equalizers, Reconfigurable Optical Add Drop Multiplexers – ROADM, etc.) designed for interconnecting data centers and optimized for coherent transmission
Standardized RestConf / Yang open Application Program Interface (API) for network elements layer exposing telemetry and control
Standardized modeling of network elements and transceivers
Standard transceiver line-side interoperability allowing use of any coherent source (still quite a challenge today as DSPs are not standardized and still proprietary to some extent)
These Microsoft views still raise some questions, including whether all, or most of, the cloud providers have the same requirements or not.  Also there is a question mark on whether modules and subsystems vendors are willing to embark on this course, adding some kind of system integrator skills to their current capabilities.
The evolution to open line system is, however, likely to be ineluctable due to the unstoppable increase in data amount that needs to be transported by cloud providers across the world.
For comments or questions, please contact us.