In past October, we talked about the Asia-Africa-Europe 1 (AAE-1) submarine cable system designed to terminate directly in multiple data centers along its 25,000 km route, from Hong Kong to Marseille.  Such a subsea cable design avoids or minimizes the need for third-party optical backhaul networks between the cable landing stations (where the submarine cable physically lands) and the data center or PoP (where capacity customers need to go to interconnect with a broad mix of potential partners and customers).  This design has been implemented in the new Aqua Comms' America Europe Connect (AEC) transatlantic subsea cable system between the US and the UK as well.  The AEC cable system had its final splice in November 2015 and its readiness for service was announced on 18 January 2016.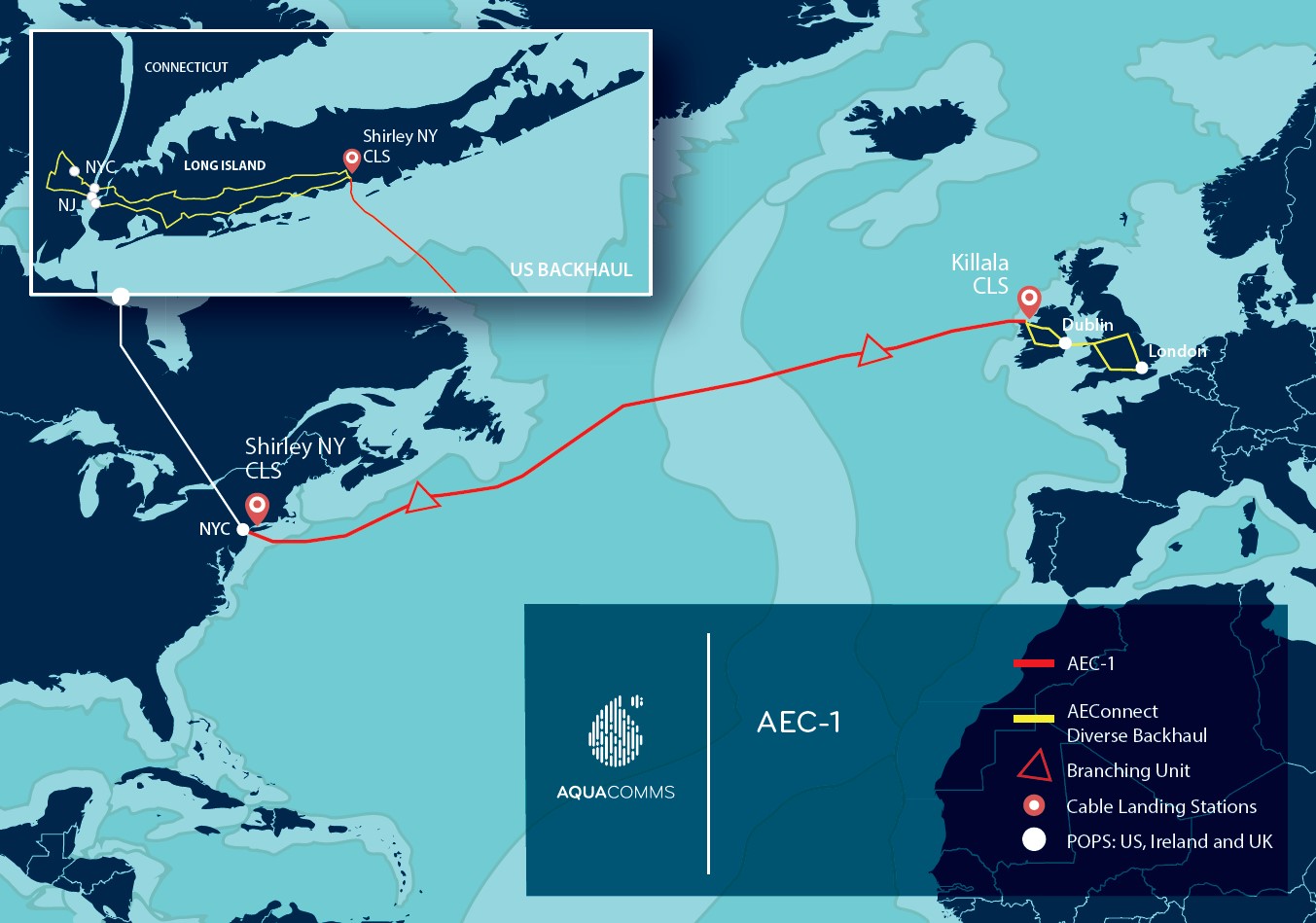 The 5,536 km submarine part of the network, including 60 submerged optical repeaters, extends from a cable landing station in Shirley, Long Island to a cable landing station located on the west coast of Ireland in Killala.  On the US side, diverse backhaul fiber is in place to five data centers / PoPs locations.  On the European side diverse backhaul fiber is in place to PoP in Killala cable landing station and all of the major data centers in Dublin.  From Dublin, there are two diverse Irish Sea crossings and diverse terrestrial backhaul fiber from Wales to London to interconnect with all of the major data centers there.
Using coherent technology, each fiber pair of the system is designed to support up to 130 wavelengths at 100 Gbit/s each, leading to an initial design capacity of 13 Tbit/s per fiber pair.
Terminating AEC subsea cable system in data centers is a natural solution for cable systems offering this huge amount of capacity.  The data centers at each of the network are essential to AEC commercial success because their customer footprint generates sales and ensures Aqua Comms maximizes the number of companies with access to their network.  Extending the connectivity to the data centers allows Aqua Comms to offers their customers a single shop solution and simplified operation.  In the more traditional scheme where the cable systems terminate at the cable landing station, subsea capacity purchasers need to purchase backhaul capacity between cable landing station and data center; this requires an additional procurement process – with additional technical and commercial issues to solve – and more complex operation with, e.g., two or more Service Level Agreements (SLAs) to manage.
For comments or questions, please contact us.