In line with our previous post about the evolution in subsea cable design, the Asia-Africa-Europe 1 (AAE-1) submarine cable system is designed to terminate directly in data centers, without the need for an additional optical backhaul network in many sites along its 25,000 km route.
The AAE-1 consortium members include China Unicom, CIL, Djibouti Telecom, Etisalat, GT5L, Mobily, Omantel, Ooredoo, OTEGLOBE, PCCW Global, Pakistan Telecommunication Company Limited (PTCL), Reliance Jio, Retelit, Tele Yemen, Telecom Egypt, TOT, Viettel, VTC and VNPT.  The vision shared by all AAE-1 parties is to build a seamless connection between Asia, Middle East, Africa and Europe to meet insatiable capacity needs.  The AAE-1 Network is designed to offer an efficient use of capacity in both subsea and terrestrial segments with high availability and low latency to fulfill this vision.
The subsea cable system will follow the route shown below, with an initial design capacity of 8 Tbit/s per fiber pair.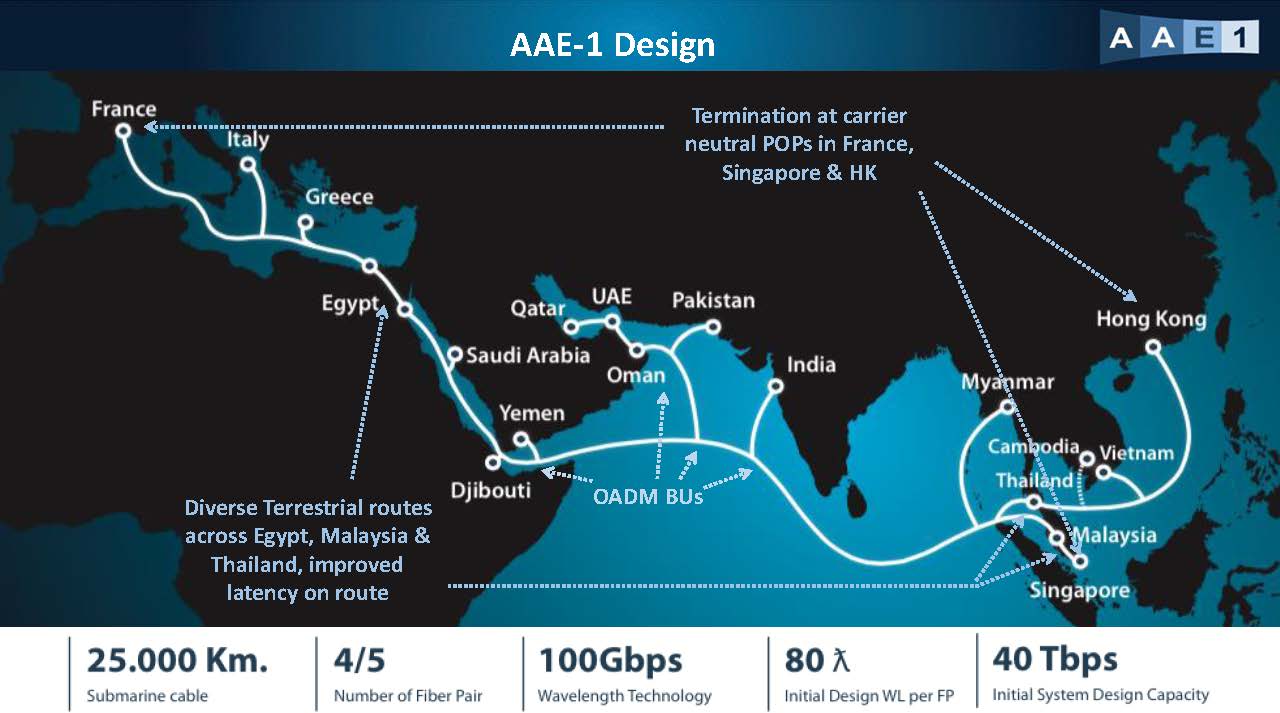 PCCW Global plans to land the cable at the Cape D'Aguilar Cable Station in Hong Kong, and then extend connectivity to their city data center.  The Malaysia–Singapore terrestrial segment will directly terminate in two separate data centers in Singapore.
Elsewhere, in KSA, the AAE-1 cable is planned to be terminated in Mobily data center in Jeddah and then connected to all the company's data centers deployed in a number of cities in the Kingdom of Saudi Arabia.  And in Marseille, France, the west end point of the cable system, a short land cable route will be built from the beach manhole to Interxion data center where the line terminal equipment will be placed.
This design, where the subsea cable systems terminate in data centers, and not in cable landing stations on the beach side, considerably simplify commercial discussions/agreements and operations for the capacity users.
For comments or questions, please contact us.