The launch event of Cinia's C-Lion1 subsea cable system between Helsinki, Finland and Rostock, Germany, took place in Frankfurt am Main on 19 May 2016.  This new Northern Digital Highway is a cyber-secure data optical connection providing direct data access and a high-capacity network connection from Finland to the rest of Europe.

Lower Operational Costs in Finland
Lenita Toivakka, Finnish Minister for Foreign Trade and Development, highlighted Finland's much lower energy prices compared to prices in Germany, huge amounts of real estate, and a climate suited to free cooling as well, all of which resulting in lower operational costs for data centers.  Additional benefits offered by Finland include state-of-the-art optical backbone network, and safe and stable political and economic environments.  As a result Finland is attracting tech investors, with Google heavily investing in the country, Facebook expanding its data center in north Finland, and Hetzner Online building a 150,000 square meter data center in the data center park in Tuusela.
"Fast telecommunication connections, together with data centers, are the basic infrastructure of the digital economy," Ari-Jussi Knaapila (CEO, Cinia Group) explained.  "Telecommunication cables and radio links are the streets, roads and highways of this new Internet economy.  Data centers are the factories and warehouses of today."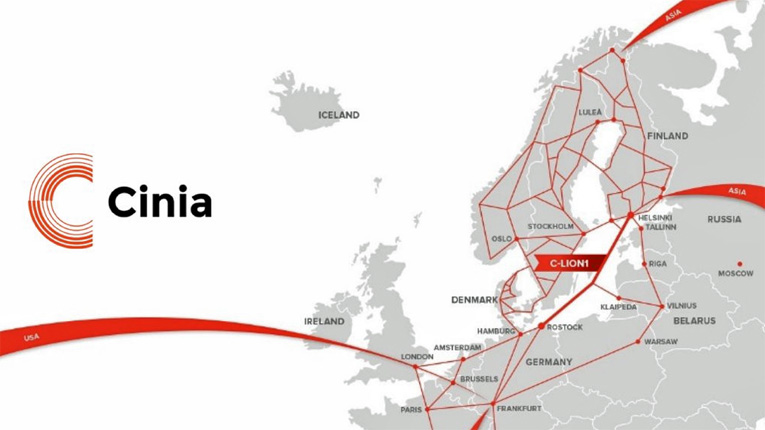 The C-Lion1 cable was deployed by ASN; field trials demonstrated a capacity of 18 Tbit/s per fiber pair, corresponding to a total cable capacity of 144 Tbit/s (18 Tbit/s x 8 fiber pairs).  This 18 Tbit/s capacity per fiber pair is enabled by extended optical repeater bandwidth, new generation of "coherent submarine fiber (CSF-2)" as named by ASN (exhibiting low loss, large effective area, and high chromatic dispersion), and  300G 8QAM coherent technology.  This new connectivity between Scandinavia and Germany provides data center operators with a diverse route compared with existing ones and a safe with the cable laid on the Baltic Sea floor.  This new route translates into redundancy and therefore increased reliability of the global network in Northern Europe.
Hetzner Online was the first customer for Cinia's C-Lion1 subsea cable system.  As explained by Arno Pirner (Head of Sales and Product Advice, Hetzner Online GmbH), the main reason for building their first non-German data center in Finland was Finland's much lower energy prices: €56.05 per MWh in Finland, compared to €151 in Germany in 2014.  With a huge capacity enabling low cost per transported bit, Cinia's C-Lion1 subsea cable system allows to trade energy cost for transport cost.
For comments or questions, please contact us.