On 26 May 2016, Facebook and Microsoft announced an agreement to build a new, state-of-the-art subsea cable across the Atlantic.  Dubbed MAREA – Spanish for "tide" – the construction of this new transatlantic subsea cable system will commence in August 2016 with completion expected in October 2017.
This announcement is a perfect illustration of the current optical communication industry trends.

First, a new ownership model.  What is remarkable is that two content providers are planning, designing and deploying a new subsea cable system at their own expense.  In the previous times, such players would have leased capacity from telco consortia owned cable systems.  Now, rather than letting a group build and control the cable and leasing capacity on the cable from this group, content providers like Google, Facebook and Microsoft are laying their own dedicated subsea cable systems.  This allows these players to use their cables the way they want in a more flexible and faster way than what the slower consortium model would allow.  This requirement for flexibility and speed in setting up connectivity/capacity stems from the fact that the data moved by just a few online giants now represent more than two thirds of the data traveling across the Atlantic Ocean.  That's up from 10 percent just a few years ago. "It's a tremendous change," said TeleGeography analyst Tim Stronge.
Second, a brand new transatlantic route.  Multiple subsea cable systems connect North America with Europe, but they don't typically originate in Virginia.  Even though Northern Virginia has long served as a major hub for data centers, including facilities used by Facebook as well as dedicated data centers built by Microsoft and Amazon, the data itself had to travel over optical terrestrial backhaul networks up to New York area to be handed over to existing subsea cable systems.  The new 6,600 km submarine cable system will be the first to connect the United States to southern Europe, from the data hub of Northern Virginia to Bilbao, Spain and then to network hubs in Europe, Africa, the Middle East and Asia.  This route is south of other transatlantic cable systems: being physically separate from these other cables helps ensure more resilient and reliable connections for both companies' customers in the United States, Europe, and beyond.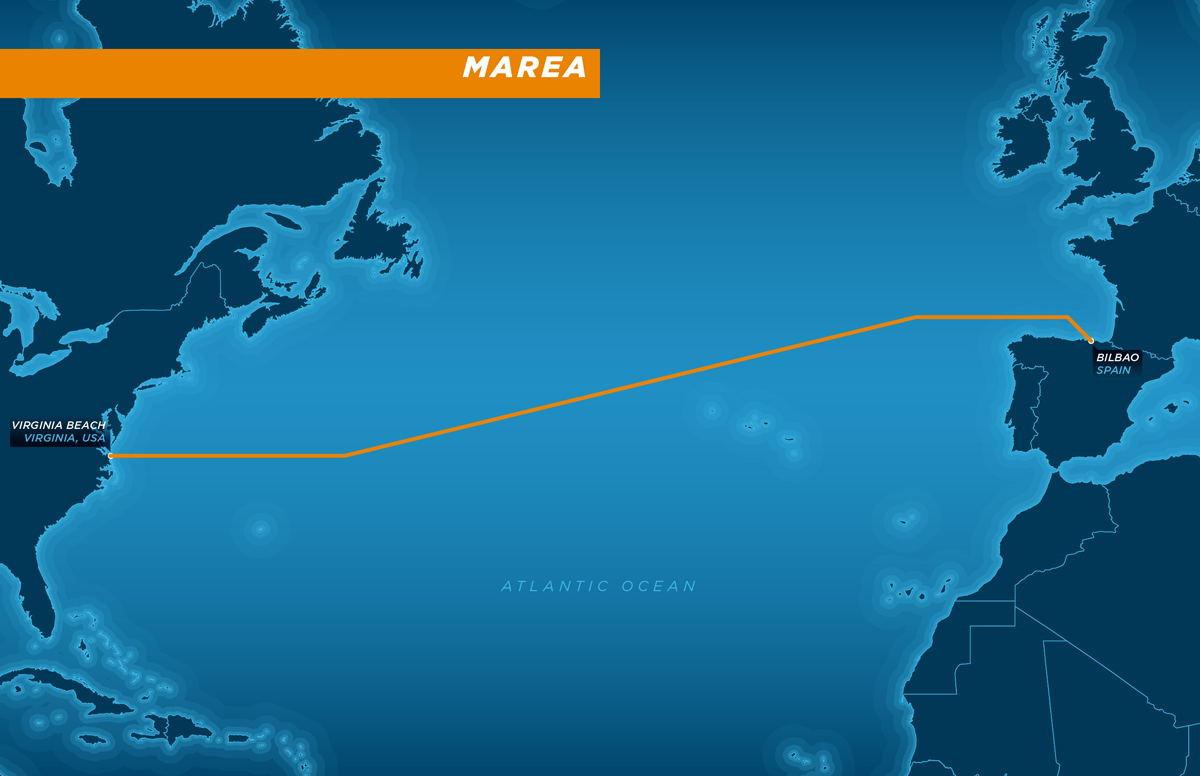 Third, a truly open subsea cable system.  Microsoft and Facebook designed MAREA to be interoperable with a wide variety of networking equipment.  This new open, vendor-agnostic design brings significant benefits for customers:  more flexibility to choose the hardware and software that best serves the system, lower costs, more choice and easier equipment upgrades which leads to faster growth in bandwidth rates.  For more information about the open cable system model, you can take a look at this blog entry.
Fourth, a huge capacity.  MAREA will be the highest-capacity subsea cable to ever cross the Atlantic Ocean, with eight fiber pairs and an initial estimated design capacity of 160 Tbit/s.  Currently, based on TeleGeography data, there are about 337 Tbit/s of potential capacity across the Atlantic Ocean.  When the MAREA cable comes online in 2017 with 160 Tbit/s, "this one cable will be able to do almost half of what all the cables do," said Alan Mauldin, research director with telecommunications research firm TeleGeography.
This announcement for this new subsea cable is part of a more global move: rather than just leasing bandwidth on undersea cables and terrestrial connections operated by telecom operators, the likes of Google, Facebook, and Microsoft are designing and driving the construction, when this makes sense, their own networking infrastructure both on land and across the seas.
For comments or questions, please contact us.