Equinix announced on 12 September 2016 it has been selected by the Monet submarine cable investors to provide US facilities and services for the next-generation cable landing station architecture to support the Monet subsea cable system.  Monet cable, whose investors include Google, is currently designed to deliver over 60 Tbit/s of capacity between the US and Brazil, and expected to be completed in 2017.  This new cable system will be landed at Equinix's Miami (MI3) data center and will feature seamless connectivity to many neighboring cable systems to extend the capacity beyond Miami to other North American and European locations.  Monet subsea cable system is a new illustration of Equinix data center model.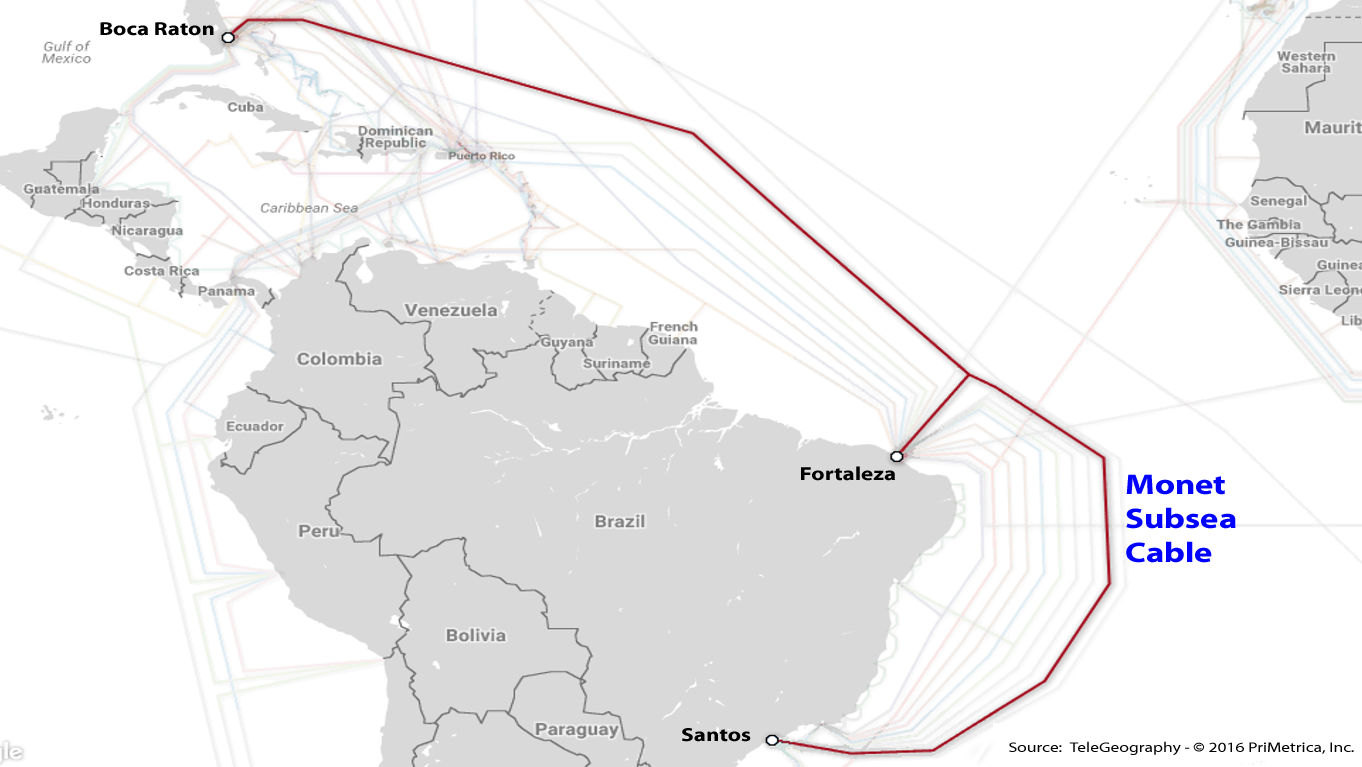 In the same vein, Equinix announced one year ago that Equinix's New York and London International Business Exchange (IBX®) data center campuses will serve as carrier-neutral network access points for Aqua Comms to connect its low latency America Europe Connect (AEConnect) transatlantic subsea cable route.
These are just two examples of Equinix engagement with submarine cable projects, which illustrate the current evolution in interconnection between subsea cable systems and data centers as already discussed in previous posts (here, here and here).  A separate press release, also issued by Equinix on 12 September 2016, listed the current submarine cable projects that Equinix is engaged with and has publicly announced.  This list includes:  Southern Cross Cable Network (California – Sydney), Aqua Comms (New York – London), Hibernia Express (New York – London), Cinia C-Lion1 (Germany – Finland), Trident (Australia – Indonesia – Singapore), GlobeNet (Florida – Brazil), Asia Pacific Gateway (China – Hong Kong – Japan – South Korea – Malaysia – Taiwan – Thailand – Vietnam – Singapore), Hawaiki Cable Limited (U.S. – Australia – New Zealand), Gulf Bridge International (Middle East – Europe), FASTER (U.S. West Coast – Japan), Seaborn Networks (New York – Sao Paulo), and Monet (Florida – Brazil).

Hosting cable landing equipment into data centers or building direct optical connectivity from cable landing stations directly into data centers represents a new innovative design in subsea cable infrastructure.  For the cable owners, deploying cable landing equipment directly into data centers eliminates a separate cable landing station and simplifies network design – speeding up the deployment and reducing the need for dedicated cable station construction.  Operation and capacity addition are simplified as well.  For cable users, termination at a multi-tenant data center with rich interconnection opportunities brings them directly into the middle of a rich ecosystem and greatly eases onward transport.  Equinix is debuting this new "data center model" that brings the cable landing station inside the data center.  Beyond the CapEx and OpEx benefits, this model allows more direct connectivity for today's and tomorrow's largest web- and cloud-based service providers.
For comments or questions, please contact us.